Baja California Sur, Mexico - May 31, 2003
Chapter 7 - The Pacific Ocean and the desert
I haven't had many opportunities to update my stories and thus am running far behind my current location. Updating the website with pictures is taking a lot more time than I would like. I hope to change that, once I figure out how to create a script for Gimp (the program I use to change the image size). I will write less about some places in order to keep up.
In San Francisco I stayed with Nuno Duarte's family for a few days. I had a great time. It gave me the chance to get my bearings back together, arrange for a new rear tire, as my previous was without any tread, and visit San Francisco without the need to rush through it.
Nuno is an old friend of mine back from the days when I worked at Alcatel in Portugal. He actually did part of the interview when I applied for a job there and can still vividly recall it, specially the use of a lot of acronyms which to me was very confusing. Anyhow, Nuno is now living in the San Francisco area with his wife Sharon and his two sons, Jaime and Charlie. I remember seeing his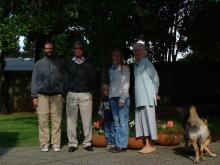 Me, Nuno, Charlie, Sharon, Hilda and Poppy, the dog. Jaime is at school.

oldest son Jaime nine years ago, when he must have been two, and he was easily recognizable. His youngest son I had not met before now. At the same time I was at their place, Sharon's mother, Hilda, was there too. She lives in Kenya, which I find awesome. Africa fascinates me and so when I meet someone who actually lives there, I find that wonderful.

My first concern in San Francisco was to get a new rear tire and eventually a front tire as well. I didn't expect it to be that difficult, but in the US, no one seems to stock tires for an F650GS and I didn't want to wait for a new tire. I thought that I would stay just a couple of days in San Fran, but ended up staying almost a week. I retrospect, I could have ordered the tire I wanted (now, I wish I had TKC80s on).

While in San Francisco I went to a party and I think almost everyone there was an expat living in the US. It was almost like some of the parties I remember from Toronto. The barbeque thing and the people from different countries. Toronto is a lot like that, specially downtown, where I used to live.

I spent two days visiting the city of San Francisco and I usually like to walk around. Mostly without any real aim, so I can get a glimpse of the city as I encounter it. It also gives me a sense of orientation and by the second day I can move around almost like a native (aham). I saw Chinatown, which at first seemed nothing special, but then I turned one corner and whoa! This place is a lot bigger than Chinatown in Toronto.

The city has hills everywhere and they are quite steep. They reminded me of Lisbon, which has lots of hills too. This made walking a challenge, but
A section of the mural inside the Coit Tower in San Francisco.

also fun. I discovered some of the landmarks of San Francisco by stumbling upon them. At the end of the day I was tired and stayed a while at the pier watching people trying to fish crab with pieces of chicken. I thin that the sea lions below where very happy to help themselves with some chicken. Nevertheless, the people seemed to have fun, even if they didn't catch anything.

Not far from the piers is the Golden Gate bridge. I always marvel at great engineering structures and had to see this wonderful bridge firsthand. Again, I walked there through some of the parkland south of it. The bridge has a lot of vehicle traffic, but people can walk over it, which I find amazing. In Lisbon, that is impossible. Lisbon has a similar bridge and the only time you can walk on it is during the half-marathon that is held every year.

From the top of the bridge, one can see most of the bay, the island of Alcatraz, the city and on the other side, the open Pacific ocean. This was the first time I had seen the Pacific ocean. On my way from the bridge, instead of walking I took a streetcar and they appear to be a hundred years old, which is very cool.

In San Francisco I met Brian Crist, who had contacted me through the F650 website. He was really very helpful. After changing my tire we changed the oil on my bike at his place.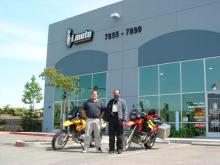 Brian and me in front of the motorcycle shop where I got my rear tire changed.
I'm writing this as I sit by a desk in my motel room here in Guerrero Negro in Baja California Sur and I am way behind on my journal. For this reason I will not go through my notes and keep things to a minimum.
From San Francisco I went south along highway 1 for most of the way to Los Angeles, crossing the Oakland bridge. But before taking the highway, I stopped for lunch and a tour of the Hoover tower at Stanford University. This university looks awesome and it overlooks Silicon valley, but I was a bit disappointed as I didn't stumble on any of the big names in the computer industry, with the exception of National Semiconductor.
I finally reached the much touted highway 1 at Santa Cruz, a cozy little town in stark contrast to much of the US. I liked the place, but not much was going on, so I left. Once you drive around Monterey bay, the highway hugs the coast for more than 100 miles. It's a never ending succesion of curves and hills high up above the braking waves of the Pacific ocean underneath. And the view is stunning with the turquoise waters of the ocean braking on the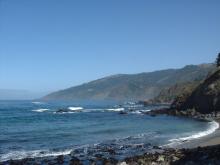 The coastline along highway 1 in California. The Big Sur.

cliffs just below the road. The road is very similar to the road around Cape Breton island in Canada or the much shorte drive from Cascais to Cape da Roca in Portugal. Obviously it took me two days to drive the length of this coastline they call the Big Sur. There is good camping at Limekilne State Park and also at Gaviota SP. To swim, the water was far too cold and the waves looked very rough. I decided to wait until Baja to go for a swim.

Before I arrived in LA, I stopped for a short visit in Santa Barbara. This is a very affluent city perched on the hills down to the beach along the ocean. Mainly, I stopped to see the Mission built by the spanish when they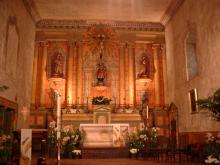 The interior of the church inside the Mission of Santa Barbara, California.

colonized California more than 200 years ago. This is a very interesting aspect of the history of California and the little church inside the Mission is very beautifully decorated with lively colours.

On the day I arrived in LA it was very hot and in a city this can be even worse. I first went to Venice beach, following a tip from Pete who I met just before LA, but I found the area to be too confusing and too busy, so I went downtown LA instead. It took more than an hour to reach downtown and the first motels, recommended as budget motels in the guidebook. I tried my luck at two of them. They looked very sleazy and the guy at one of them was even worse. None negotiated the price, so I left and tried an option from a coupon book I got. This was just a few blocks away. By this time I was ready to just drive away from LA and avoid it alltogether. But this time the guy at the motel did negotiate and settled on $52 down from over $70.

The next day I wanted to at least see Hollywood. I drove down Santa Monica boulevard and then up Sunset boulevard. The street is not anything special. I don't see where all the fuss is. I did notice however many street vendors with a sign advertizing Star Maps. I thought of stopping and asking if they had a map of the location of Betelgeuse relative to Antares or of M31. I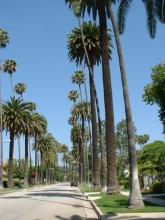 One of the sidestreets from Sunset Boulevard in Berverly Hills, LA, California.

guess they would just look at me like I am from another planet. Hey, that would be cool if I where. Anyhow, I took one of the sidestreets and that is more interesting as you come across incredible mansions lined with the latest in luxury cars. I wonder how expensive any of these homes is. Probably the value of the entire budget for some countries. Hollywood didn't look anything special, rather a lot of adult entertainment joints and bars, so I stocked up on supplies and left LA.

Leaving LA is a figure of speech, as it took me two and half hours on the freeways to finally get to an area where traffic was less and there seemed to be a clearly distinguished city border. I wouldn't want to live in such a city where half your life is spend driving from point A to B. Wait a minute, I'm driving from A to B (and C...). Oh well, never mind.

I came within half an hour from San Diego and thus from the Mexican border, but I turned east instead and went to the Palomar observatory. This astronomical observatory was built starting in the 1930s and was completed around 1954 or so. It is truly impressive. The building that houses the telescope is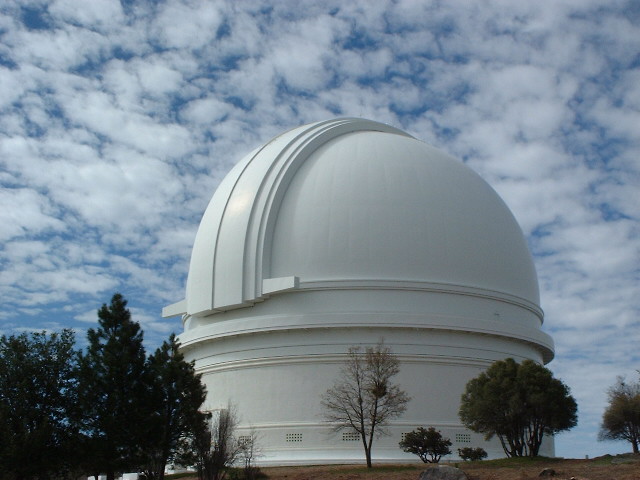 The building that houses the 200 inch telescope at the Palomar observatory.

enormous and once inside the massive structure that composes the telescope makes me look like an ant. Outside it was steaming hot and inside it was pleasantly cool, so the telescope is maintained at constant nighttime temperature. Otherwise, the optics would suffer or you'd have to wait hours until the components stopped contracting due to temperature changes. There is no guided tour, at least not on a Monday, when I was there, but you can see the whole thing from inside through a glass pane, and there are excellent explanations. While there, you have to keep to the speed limit, which was posted as c. Get it? The speed c is the speed of light in a vacuum and that's the upper limit for all things in this universe. I see that astronomers have a sense of humour.

After Palomar, I went straight to Joshua Tree National Park. The road goes winds through an area of desert known as Anza-Borrego State Park. It is a barren, but beautiful landscape. At some point, you dip below sea level, just like in Death Valley, but here there is actually a sea, the Salton Sea, which I have no idea if it is salty. To the north you go through a bizarre area where grapes and strawberries are grown smack in the middle of the desert. How is this possible? Water from the Colorado river and northern California is diverted so far south that it makes it possible to grow crops demanding huge amounts of water. Does it make sense? In my opinion no. Why not try to develop a crop from the local plants? They are adapted to desert life and don't need a lot of water. With a little marketing savy where americans excel, these crops could actually make economic sense. However, we want strawberries in the winter, so let us dry the little water we still have. Let's see if in a hundred years or so, this practice still continues.

Joshua Tree NP is a jewel. By this time I had seen a lot of deserts. I had even seen Joshua trees, but this park is a lot more than just desert and weird looking trees. First of all, it is huge and takes about two hours to drive from one entrance to the other. There are plenty of campsites in the interior of the Park close to the road, but none has any water, so you need to carry all your water with you. I thought this is cool, because this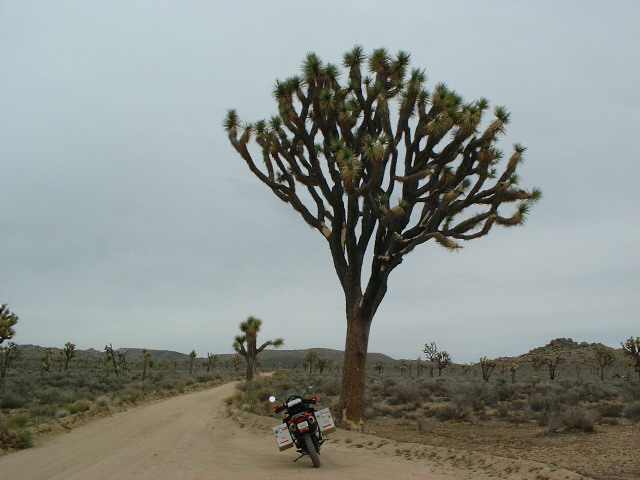 A giant Joshua tree on one of the dirt roads that loops from the main road.

is how people learn to conserve water and appreciate it. But then again, you can carry a ton of it in those big SUVs. Not so myself, but I still filled up about 15 litres into two bags. These bags are really good, because when they don't carry water they pack small and weight almost nothing. So, I was prepared to camp out in the wilderness for two nights. By the way, camping is free at those no-frills campsites.

The scenery in Joshua Tree NP is stunning and is very diverse as there are basically two deserts in one. You get to see two for the price of one :) The Colorado desert and the Mojave. I don't remember anymore in which the Joshua trees grow, but they grow at higher elevations.

I did a few hikes inside the Park and they are really worth doing, but make sure to carry water with you. It gets really hot during the day. On one hike from my campsite I went up this hill strewn with big boulders. Going up was easy, but coming down I ended up in a spot where I decided to climb down between two rocks. This was not a very good idea. I know this because I did some rock climbing and if I slipped I would have scrapped my skin against the rock or worse, brake a bone or two. Well, nothing of that sort happened, but I opened up the wound on my right thumb that never healed since Kansas or so. (It's healed now since I am in Mexico). It's amazing how important a thumb can be.

At night, Joshua Tree gets incredibly silent, interrupted by the occasional coyote call. I only remember this much silence up in Northern Ontario. The sky is also amazing, as there is hardly any light pollution. Apart from an astonishing variety of plants (it shouldn't be called a desert), there are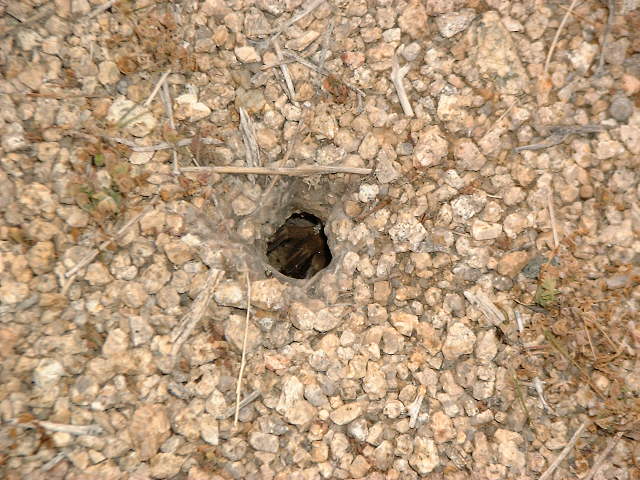 My campsite neighbour, the peaceful tarantula.

a lot of animals. The most notorious are lizards and rabbits, who seem unafraid of people. At night however, you can see even more animals. Right beside my tent, I had a tarantula lair and I could see the spider lurking just a few centimetres down the hole. I never saw it come out. I used to be afraid of spiders, but not anymore. I think tarantulas are very beautiful animals.

I had to be in Phoenix on Friday because I had scheduled a service on my bike and a new front tire, so I left Joshua Tree NP and went to Arizona, though I stopped at the Colorado river south of Lake Havasu city for one night. Once more, I couldn't make it to the Grand Canyon. Maybe some other time.

On the map, Phoenix looks big, but I didn't expect it to be that big. It seems to go on forever. It took me almost two hours to go from the west to the east end. And it was hot. My thermometre was showing above 45°C, but I think it was more like 39°C. However you put it, it was unbearably hot in the sun. I camped for one night at Lost Dutchman SP east of the city. Until the sun went down, I couldn't do much. When I went for a phone call at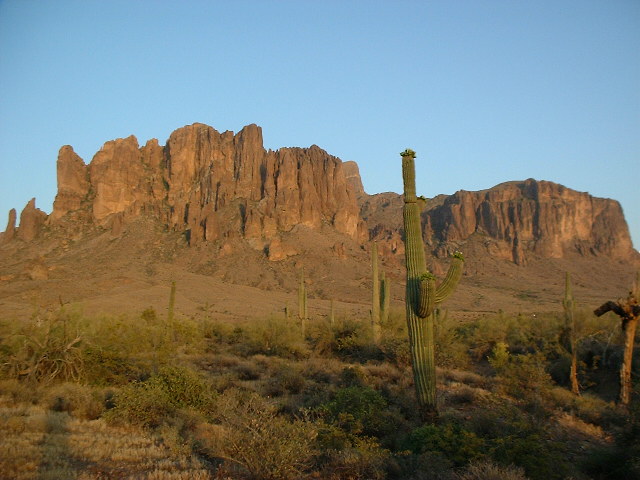 Lost Dutchman State Park at sunset with Saguaro cacti in the foreground.

the public phone, I had to stand in the sun, because whoever installed the phone didn't think that it made a lot more sense to place it so that it faces north and thus never directly the sun.

The next day I went to the motorcycle dealer to do the servicing on the bike. I had also ordered a new front tire, but they messed up and the tire was still in California, so I had to return the next day just for the tire. I think this will be the last time I service the bike at a dealer. From now on I'll do everything myself. Except probably an engine remake. I was having a few problems with the bike, with it stalling on me while releasing the clutch. Yes, it was in first gear. I suspected the clutch adjustment, as I had had a similar problem before. Well, after the service, the stalling continued, so I went back there on my way out of Phoenix to get that fixed. For free of course, as that should have been done in the first place. I noticed that the mechanic used the specs from the F650 manual. Now, my bike is an F650GS and even though the engine in my bike and the previous model are very similar there are differences. And the clutch specs are one of them. They are measured differently and with my newly reduced manual (it looks like a small pocket book) we verified that the clutch was not within spec. After adjusting the clutch, the stalling problem disappeared. I'm now in Mexico and it hasn't stalled since, whereas before it was every day.

I also met Gerry Elam from the Chain Gang site. We had been in contact and we met for lunch. He's a really nice guy and was very helpful while I was in Phoenix. I had my final Ontario driver's license shipped to his address. Now, this driver's license thing is a long story. Basically, I still had a temporary one, waiting since August of 2002 for a final license. The ministry in Ontario is either too lazy or discriminates against motorcyclists and lets them wait for months.

At the library in Phoenix I met Brent, who rides an F650GS Dakar. We found out that we both lived in Germany and consequently speak german. He invited me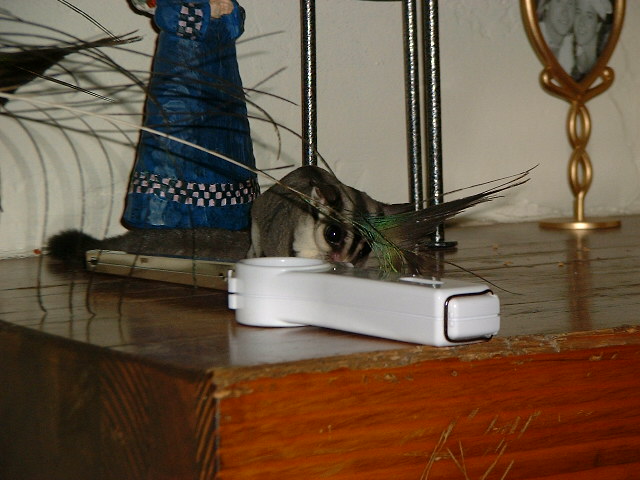 Sydney, the flying marsupial examining an electric lighter.

to stay at his place. He is very nice guy and has travelled extensively. What fascinated me the most was his travels through Africa on a motorcycle. He and his girlfriend are also animal lovers and have quite a few exotic species at home. The funniest character was a small Australian flying marsupial, that somewhat resembles a cross between a squirrel and a racoon. They named it Sydney and he is very active at night, jumping and running around the house.

Gerry also told me that Erin and Chris Ratay (see Ultimate Journey) were still in town and were planning to go to a motorcycle rally north of Phoenix. That was good news, as I had already lost all hope of meeting them on my way to Mexico. I had been following their journey around the world for the last 3 years, and I wouldn't let the opportunity pass to actually meet them.

So, I went to Heber in Arizona, which is high in the mountains and thus a lot cooler than Phoenix, which is very nice. I got to the Rally site and drove around trying to either spot Chris or Erin or any of their bikes. I found them by their bike in the main area. I think we immediately connected. At least I did. They are very nice and joyful, just like I imagined from reading their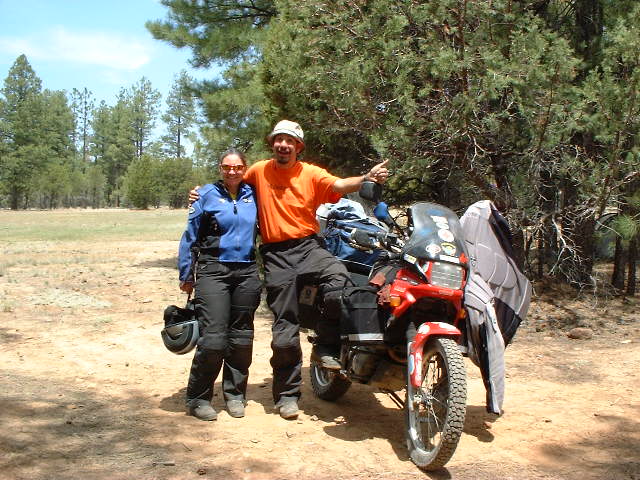 Erin and Chris Ratay with Chris' bike.

stories. So, in a sense I knew a lot more about them then they probably knew about me. Anyhow, we talked a lot, swapping information, telling stories and asking questions. They shared a wealth of information and I felt swamped initially.

At the rally site I also met another Chris from Belgium on a world tour on a Honda Africa Twin. He was going north to Canada. We all camped at the Rally site and by the next day, almost everyone was gone by 8am. It was weird. The only people left were the world travellers. Maybe it's because we have a sense of mañana. If you can do something today, tomorrow is ok too. Or something like that.

Anyhow, I joined Erin and Chris on the way to Phoenix, where they were staying. Erin's bike was in for some major repairs. Chris, Erin and with the help of Al Jesse, they had taken the engine apart and sent the cylinder head to California for some valve rework. Now, they had to put the engine back together and back onto the bike. I helped a bit putting the engine back on the bike and that was really cool. I learned immensily and realized that I needed to upgrade my toolkit. I am very grateful for all the help and tips Erin and Chris gave me.

When the engine was back in place, we all awaited the much anticipated sound of the engine firing. But instead there was nothing but the cranking noise of the electric starter. After a few different attempts, Chris opened the valve covers and found that the timing chain (the one that makes the camshaft move) was slack and should be tight. Luckily they have two identical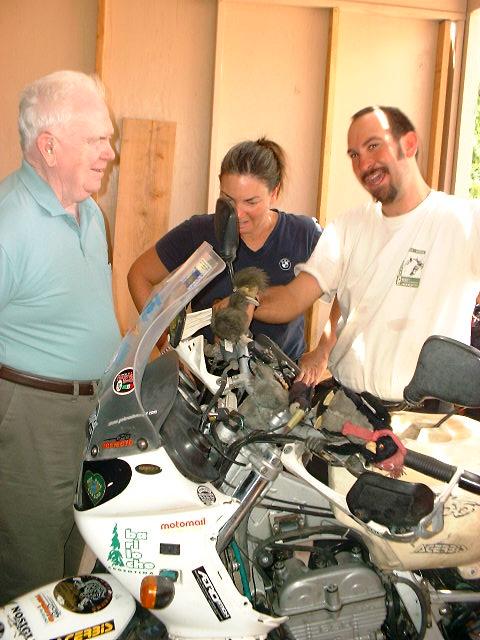 Julie's (Al Jesse's wife) father, Erin and an elated Chris after successfully running the Engine on Erin's reassembled bike.

bikes (btw, in mine, the engine is pretty much the same) and used Chris' one to check on the spring that should tighten the chain. The one on Erin's bike was way in and that was the reason why it didn't start. Once the problem was fixed, Julie's (Al Jesse's wife) father had the honours of pushing the start button. Voilá, the bike started. We were all quite happy. Erin had her bike back and they could now proceed on their journey through the States and Canada.

I left Phoenix the following day to Tucson and the Mexican border. Before Tucson I camped closed to the Desert Museum, south of Saguaro National Park. The Museum is great and if you get a chance, visit it. Try to go very early in the morning, because the heat can be too much. It took me almost three hours to visit the museum and I didn't see everything. There are all sorts of plants and cacti from the deserts, as are a variety of animals. I saw rattlesnakes up close and personal, with a glass pane in between. I also saw mountain lions and even beavers. That was the most unusual part of the museum, as I did not know that there are beavers in Arizona (or used to be). A hundred years ago, there were rivers all over Arizona. Now most of them are gone. This is a stark reminder of unsustainable practices. I hope it is used as a lesson, but from what I saw, I don't think it is.

I then went to the last major US town before the border to try to get a map of Mexico, a tourist card and film. It was basically a waste of time, as I only bought one roll of film, due to the price, didn't find any good maps of Mexico and the person at the Sonora tourist office filled out my tourist card incorrectly. She put in USA nationality and birthplace, even though I handed her a Canadian passport, which says I was born in Germany! To wrap up she put in car as my mode of transportation, even though I had a heavy jacket on in 100°F weather! Maybe she thought I was a firefighther.

After leaving Tucson later than I had planned, I went straight to the Kitt Peak observatory. The road is a few dozen miles north of the mexican border and I've never seen so many border patrol cars. It seemed that every second vehicle I passed was a border patrol. This is in stark contrast to the canadian border to the north, where I never saw border patrols. I reached the cutoff to Kitt Peak around 3pm and the observatory was going to close at 4pm. I went up the road anyway. There is a posted speed limit of 25mph, but with such a beautiful road and a new front tire, I couldn't help driving as fast as I could. And believe me, in some corners you could easily do 50mph on a motorcycle. Just don't tell any of the border patrols.

At the Peak, the astronomical observatories are plentiful, but only three can be visited.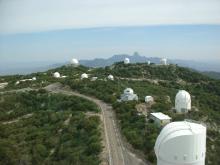 Some of the many astronomical observatories at Kitt Peak, seen from the 4m telescope platform.

There are tours during the day, but when I arrived I only had time to rush through the two I deemed more interesting: the solar observatory and the 4m telescope. It's not as impressive as the Palomar observatory, but probably more interesting, because of the visitor center and all the other observatories. As I mentioned, I didn't have a lot of time to visit the place and there was no camping up there, so I had to leave and went straight toward the mexican border at Sonoyta. The road to Kitt Peak is so much fun I would have loved to run it up and down a few times.

Because it was late in the day and I didn't want to get stranded in some strange and god forsaken border town, I camped at Organ Pipe National Monument. This park from the National Park service has a huge campsite, but was hardly occupied. Camping is also cheap for north american standards at $10 a night, but there are no showers. I didn't see a lot of the scenery, as by this time I was getting tired of deserts and cactuses.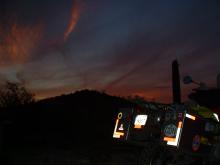 The sunset at Organ Pipe National Monument, just 10km from the mexican border.
The next day it was off to unknown Mexico.